Top 10 APP Homepages: Inspirational App Screens Collection in 2023
Faizan
Mar 09, 2023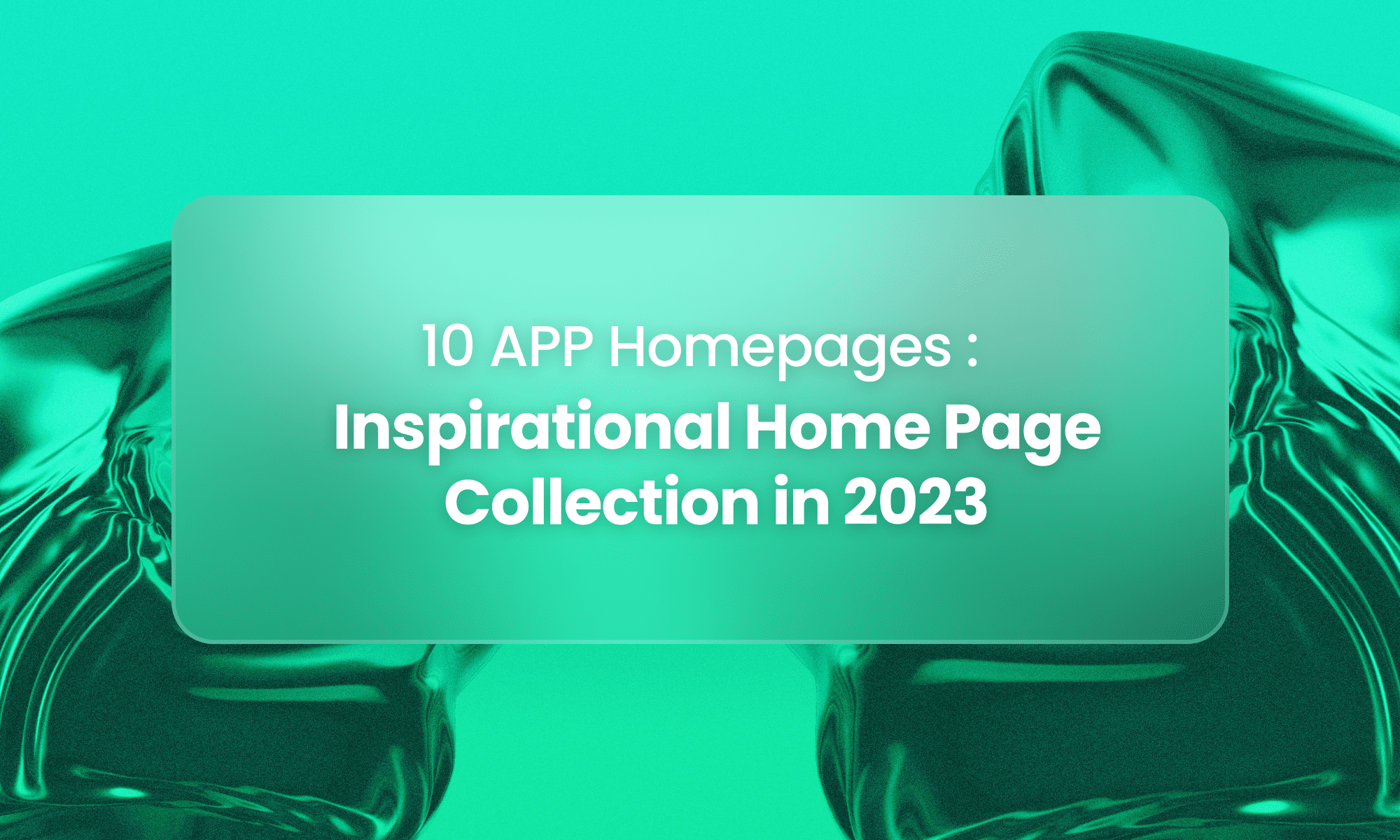 When launching a new application, you would need to go through a lot of new UX app homepages design ideas. These ideas can help you in finding your brand's identity and prove to be beneficial for your product.
Good-looking home screens increase the user retention rate. For most, the first impression is the last, so, all home screens have to be user-first.
If you are looking to create the best app home screen design, then this article is worth giving a read. Here you will discover some cool home screen ideas that you can also adopt for your very own UX homepage.
App homepages have to be attractive because they are the first thing the user sees. If the homepage fails to impress the user, then they are very likely to lose all interest. This will also put up a tag of bad user experience.
Let's find out answers to some basic questions that you may encounter in your UX Home Page journey:
What are app homepages?
Homepages are nothing but a display of the first page that introduces the user to the application. With time, we have seen home pages evolve from informational pages to conversion-focused machines.
Today, companies focus more on beautifying their app homepages than the rest of their application. With the power of good homepages, it has become possible to convert your leads to customers. That is why designers take a keen interest in the making of home screens.
Homepages have a huge responsibility of keeping the users stay to the application. As this improves the time spent on the application which Google regards as a good UX. And, when it comes to SERPs, it is the game of best app home screen design.
Not every homepage can catch the user's eye but it doesn't mean you should stop experimenting. App homepages are refined only when a lot of its versions are tried and tested to remove all the anomalies. The final version of the homepage is capable of providing the best user experience.
What makes a good app design?
Any particular design becomes good when it is easy to see and understand even for beginners. If a person with absolutely no knowledge can go on with using the application freely then it is certainly a good one. It is the users who decide whether the design is good or not because it's all about a good user experience.
If a good UX can make design good then, on the other hand, a bad UX can ruin the overall experience. The secret to a successful design isn't vividness but rather it is simplicity. The simpler the UI, the better results it is going to give out in terms of easy use. That's how we differentiate between good and bad designs.
Here's how you can research different criteria:
Consistency
There has be consistency in the design so that customers find it easy to use. Products becomes famous for a reason and that reason is providing ease to the users. Consistency is the key to your success and keeping users satisfied.
Target Audience
Target audiences must be kept in mind while designing a new homepage strategy. This new strategy has to match the interest of the audience. The interest of the audience can be found in the popularity of products and positive feedback.
It is always smart to learn the behavior of your audience and devise a plan that meets their standards.
Reusability
A good app design is one that somewhat automates the process and users don't have to redo them. If they have done a certain task once, such as filling in details then they shouldn't have to do it again.
What are the most popular homepages?
A homepage becomes popular when users have positive feedback about it. The traffic is generated pretty quickly as compared to the less popular ones. For a homepage to be popular it has to follow certain design principles. A kind of homepage that does not follow design guidelines is like one without a pillar and is vulnerable to falling off.
Here are some great examples of app homepages that you must know about: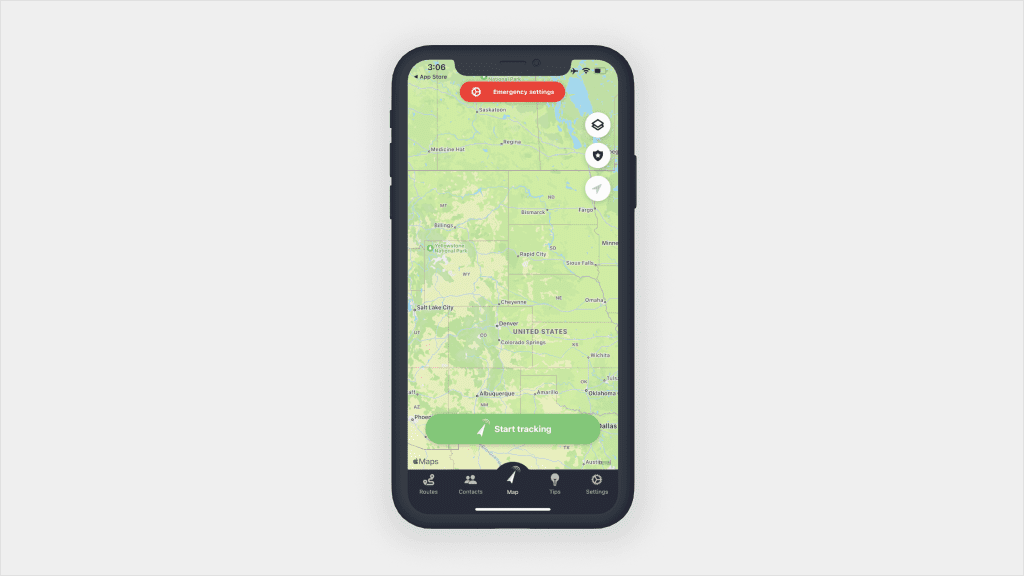 Arrive Safe takes your safety to the optimum level by notifying your loved ones about your whereabouts. It is a travel app that shares your location in real-time and gives the report every second. Arrive Safe has the best mobile app homepage because it takes merely a couple of steps to finish the operation.
Designers have put in a tremendous effort in coming up with an app homepage that minimizes user work. Arrive safe can be easily counted as having one of the best app homepages of the year.
You can also take their example of uniqueness when you get to build your design.
Android Link: https://play.google.com/store/apps/details?id=com.arrivesafe&hl=en_IN&gl=US
iOS Link: https://apps.apple.com/us/app/arrive-safe-live-gps-sos/id783330557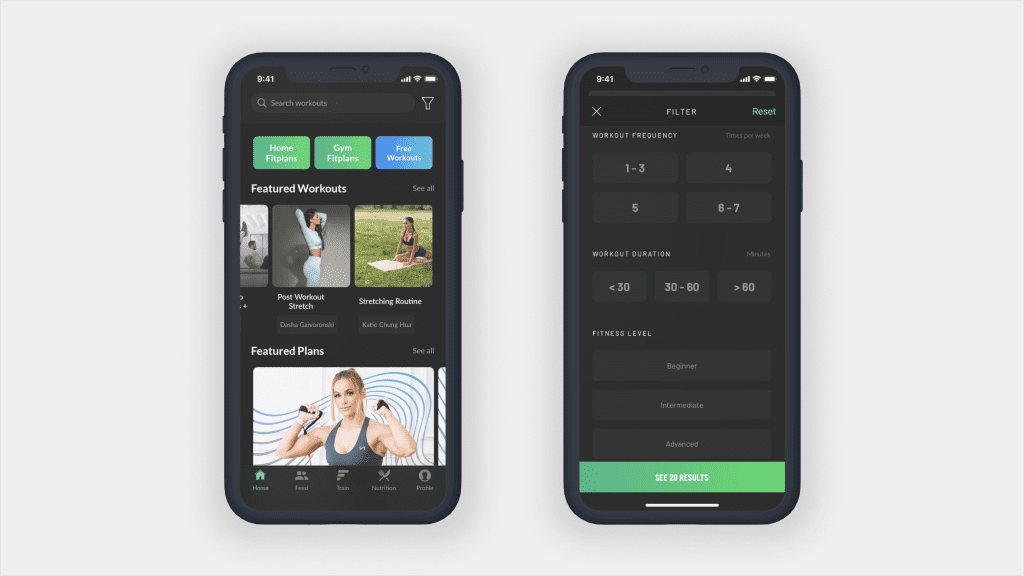 This app is the goldmine for fitness lovers, it includes everything from keeping track of your routine, diet and daily workout. They offer multiple programs from bodyweight and yoga to strength training and HIIT.
It would be an injustice with the application designers to not give them credit for creating such an eye-catching user design and experience. Their designers did an amazing job on both onboarding and workout screens experiences.
They are perfectly leveraging the Social Proof and Similarity principle on the Onboarding page to increase user base which makes this app inspirational for other designers and product owners.
Android Link: https://play.google.com/store/apps/details?id=com.fitplanapp.fitplan&hl=en&gl=US
iOS Link: https://apps.apple.com/us/app/fitplan-gym-home-workouts/id1064119547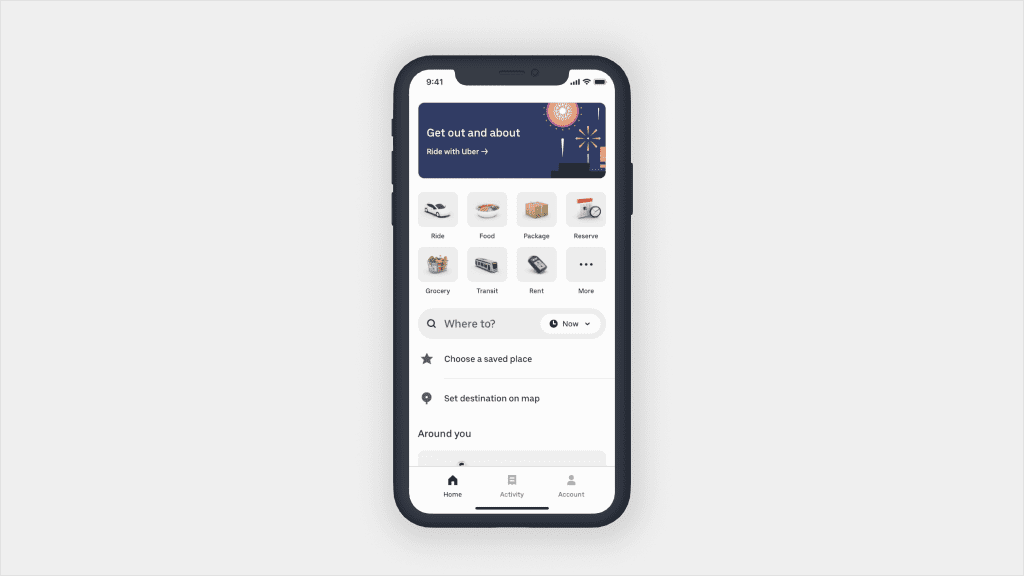 Uber is the go to ride booking app that completed more than 5 billion rides and is available in more than 80+ countries around the world. Uber known for its uniqueness, creativity and diversity, that's why people expect the same thing from their application. And Uber's designer doesn't disappoint them either.
They designed an Application Screens that are user-friendly and intuitive, with a minimalist and modern aesthetic. The app's primary color palette includes shades of black, white, and gray reflects the company's brand's identity.
The app's map home screens is also designed to be simple and visually appealing, with crystal clear markers for pick-up and drop-off locations.
Android Link: https://play.google.com/store/apps/details?id=com.ubercab&hl=en&gl=US
iOS Link: https://apps.apple.com/us/app/uber-request-a-ride/id368677368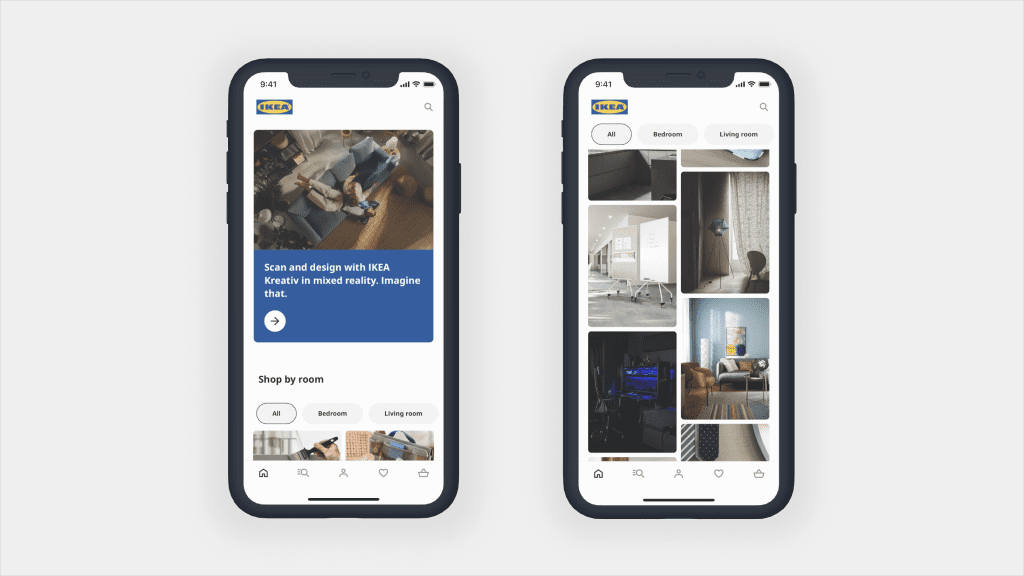 IKEA is the most popular furniture retailer that known for his affordable and personalized model. They have more than 300+ Stores in more than 50 countries in the world.
The Ikea app screens is designed to be visually appealing, with a simple and modern aesthetic. The app home screen typically has a white background, with bold black text, and periodic pops of bright colors such as yellow and red to show important buttons or notifications.
The app's focus on product imagery, search functionality, and availability make it a precious tool for Ikea users.
Android Link: https://play.google.com/store/apps/details?id=com.ingka.ikea.app&hl=en_US
iOS Link: https://apps.apple.com/gb/app/ikea/id1452164827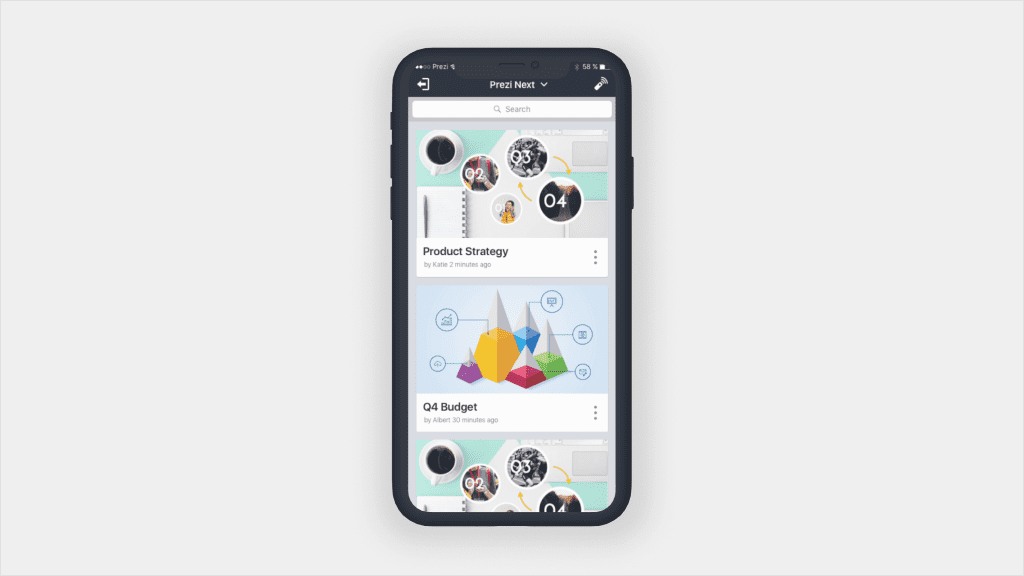 It is a great presentation tool and undoubtedly one of the top app homepages as it covers all. Its adequate functionality on the homepage tells the user what is to be done next. Every detail is displayed step by step with the message "Designed for people who aren't designers". This kind of approach keeps the users engaged and it helps in building their interest over time.
Prezi tool can maximize the quality of presentations with fantastic visuals and cool suggestions that beautify content. Soft features take user interaction into account and try to treat the user well enough so they don't encounter any difficulties. That is the real beauty of Prezi that users love.
Android Link: https://play.google.com/store/apps/details?id=com.prezi.android&hl=en&gl=US
iOS Link: https://apps.apple.com/us/app/prezi-viewer/id576717926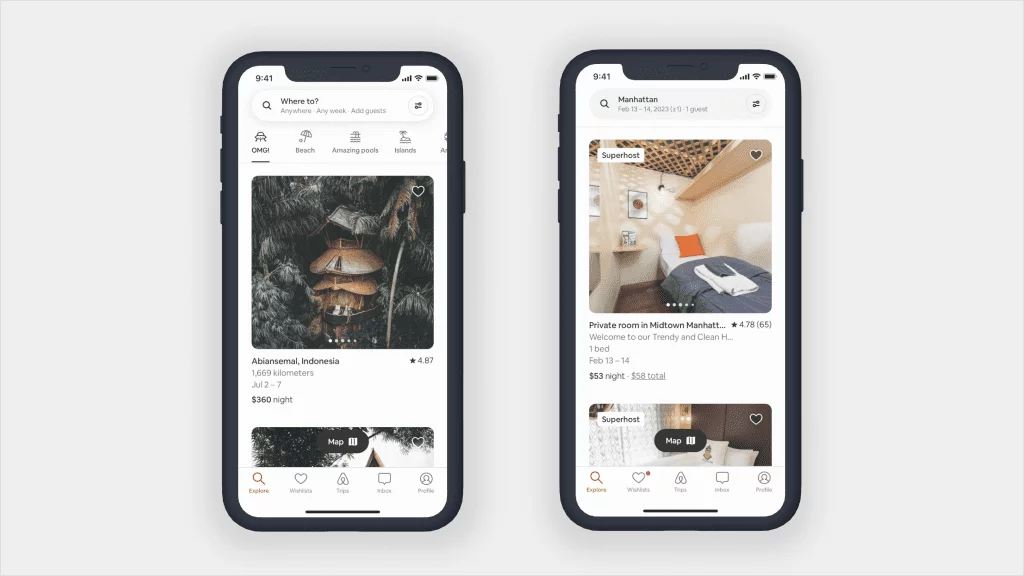 A big name but has a simple design. An example that various app home pages should follow is to keep customers happy. The homepage displays a simple form asking for necessary details that don't sound long. There is also a realistic image in the background that looks cool. This saves a lot of the user's time and they can decide within minutes.
An app homepage with this simplicity is a sign of good UX as it plays an important role in keeping users satisfied. Airbnb has kept its design standards high but super-easy to use. That is why it has never lost its customers because they try all the tactics to make it easy for them.
Android Link: https://play.google.com/store/apps/details?id=com.airbnb.android&hl=en_US
iOS Link: https://apps.apple.com/us/app/airbnb/id401626263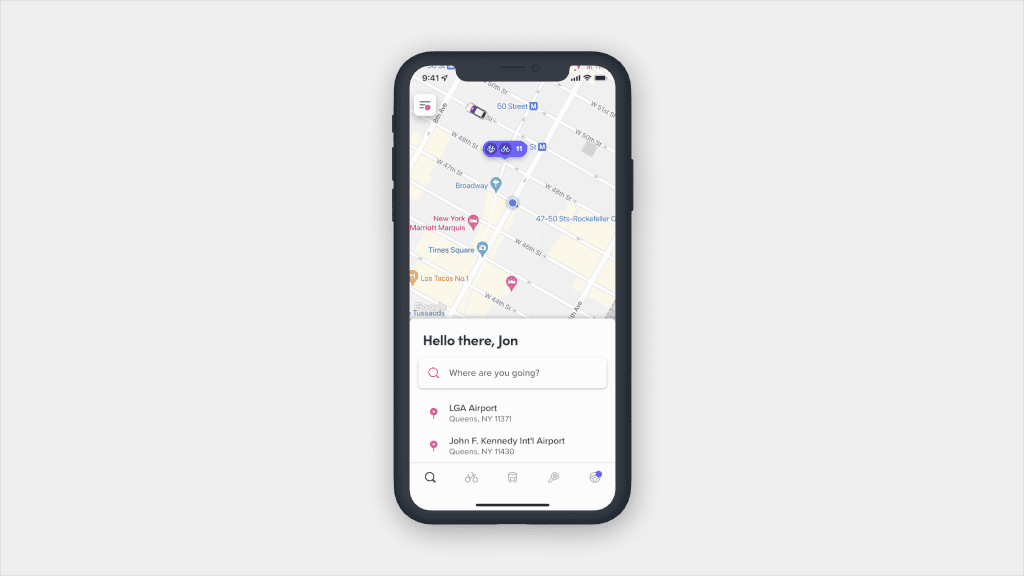 Lyft has the simplest of all app homepages as you can discover yourself. They have used as less text as possible so users can directly click on the options for the desired action. First, the user has to think less, and secondly they only need to click not more than twice.
The true definition of a fine UX is to provide ease and Lyft has done just that. The screen displays the desired option in such a soft manner that users don't face any difficulties.
Other app homepages try to follow in the footsteps of Lyft because of their simple designs. They have taken tough measures to compete with the rest of the design world.
Android Link: https://play.google.com/store/apps/details?id=me.lyft.android&hl=en&gl=US
iOS Link: https://apps.apple.com/us/app/lyft/id529379082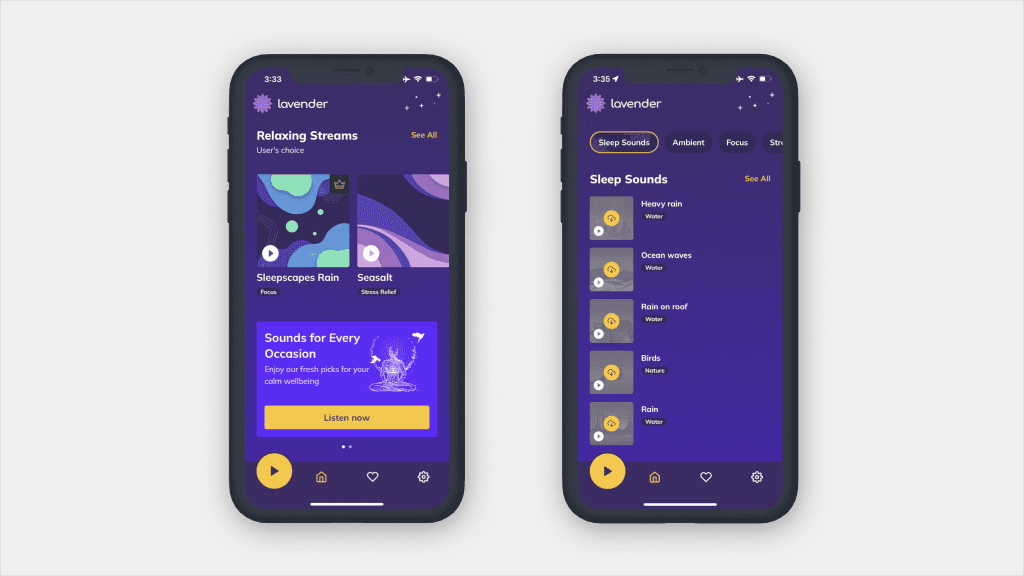 The user-friendliness of this design gives a sense of calm to all the users who can have an uninterrupted user experience. Users can turn to this app after a long day at work and when they need to relax their minds.
This app contains nature-based sounds that are made to provide relaxation to the mind. It also has a sleep-timer and offers some healthy valuable tips. You can also find the recipe for lavender tea which you can try and enjoy almost any time of the day.
The app homepage involves classifying different features to increase usability. App users can select their favorite category and make full use of the beautiful features.
iOS Link: https://apps.apple.com/ua/app/lavender-app-sleep-relax/id1636889687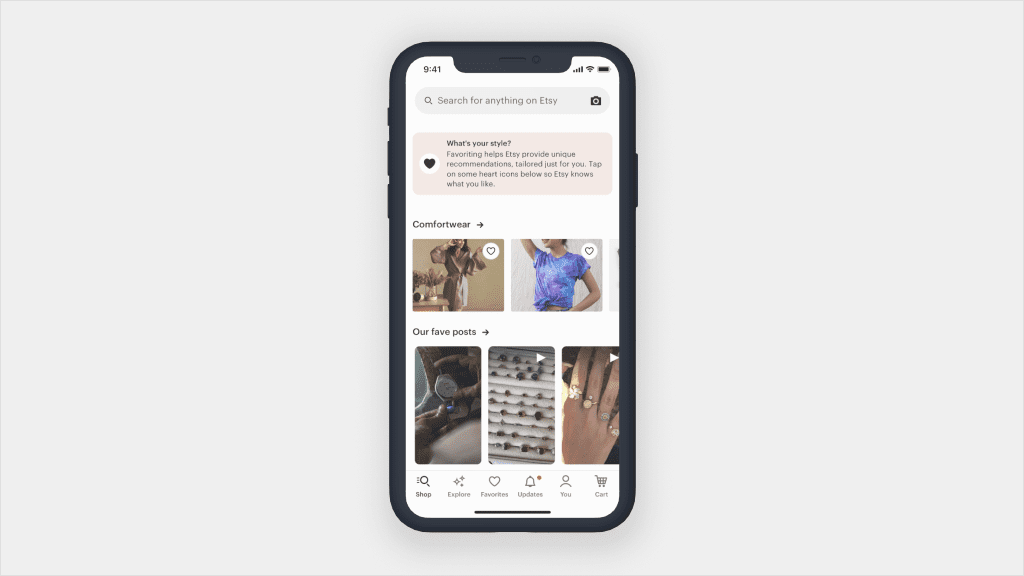 It is an eCommerce website that deals with the buying and selling of different products. Etsy is counted as having the best app homepages because it displays adequate information on the front. Customers are shown just the information they require at the moment Users don't like to spend more than one minute contemplating something. If the layout isn't attractive enough then users are only a click away to jump to the next site.
The standards of Etsy are rather different as they focus on displaying demanding products to have upfront sales. Their success formula is a mixture of certain strategies that involves getting the user to buy at last. This feat is achieved by good designs and better UX. It is the UX that defines standards of usage, and the team at Etsy has good knowledge of this phenomenon. That's why they are trying to make the user experience even better.
Android Link: https://play.google.com/store/apps/details?id=com.etsy.android&hl=en&gl=US
iOS Link: https://apps.apple.com/us/app/etsy-custom-creative-goods/id477128284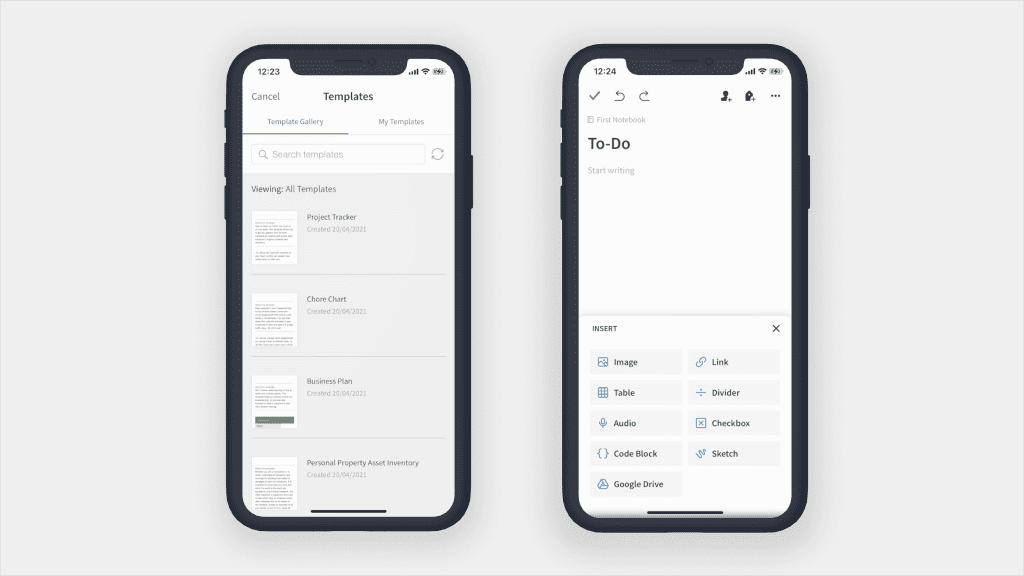 Evernote is the first choice of many as it is the place to store your notes online. Their app homepage can't be more simple as it seems lighter to the eyes which makes usage easy. The designs are crystal clear and tell the user what to do at first sight.
Evernote gets a sufficient amount of traffic every month and it is as clear as their designs. The team at Evernote knows how to pull customers to make them come back.
By using Evernote you never lose your work and all your important documents are organized. That means you can find your desired document in the nick of time. This also encourages productivity and makes you capable of doing more to achieve your objectives in less time.
Evernote is like your virtual cupboard which you can use to access your documents anywhere. The ease of use and no restriction on places make Evernote the most demanding application.
Android Link: https://play.google.com/store/apps/details?id=com.evernote&hl=en&gl=US
iOS Link: https://apps.apple.com/us/app/evernote-notes-organizer/id281796108
Wrap Up
Now that you have taken in enough information, now's the time to process it. We talked about some of the world's most demanding app homepage design ideas that would help you in the long run. Such as we discussed, ArriveSafe, Uber, Etsy, Fitplan etc.These all are examples of some great UX that sets the user in the right tone from the start.
Cool homescreen designs are not achieved overnight. UI UX designers actually have to put in intense work to meet the user requirements.
New app homepages are actually the result of competition between the companies who tends to be better than the other. Resulting in the production of eye-catchy designs that adds to the beauty.
No screen layout can ever be successful unless it has positive feedback. To have the positive reviews you must include all the factors that contribute in making your product a thing.

If you are interested in having your new app homepage developed from scratch then get in touch with our frontend development team. We will be more than happy to assist you in your whole app homepage designing and development.